SECTION 40
RX ANTENNA UPGRADED TO A 2X13 RPOL LFA ARRAY
(October 30th, 2015)
After having successfully utilized various Single Yagis as separate "RX antennas" (see Section 25 for details), I decided to enhance that capability and add some gain to it by upgrading to a 2X13 RPOL LFA configuration.
Along with that capability, I acquired a G-5500 AZ/EL rotor from Yaesu and a EA4TX interface in order to have automatic Moon Tracking capability. That is a very welcomed upgrade since the separate RX antenna system in the backyard was entirely "manual AZ/EL", so I was continuously running outside the house in order to re-aim the Single Yagi towards the moon.
How well does this upgraded system perform? See below...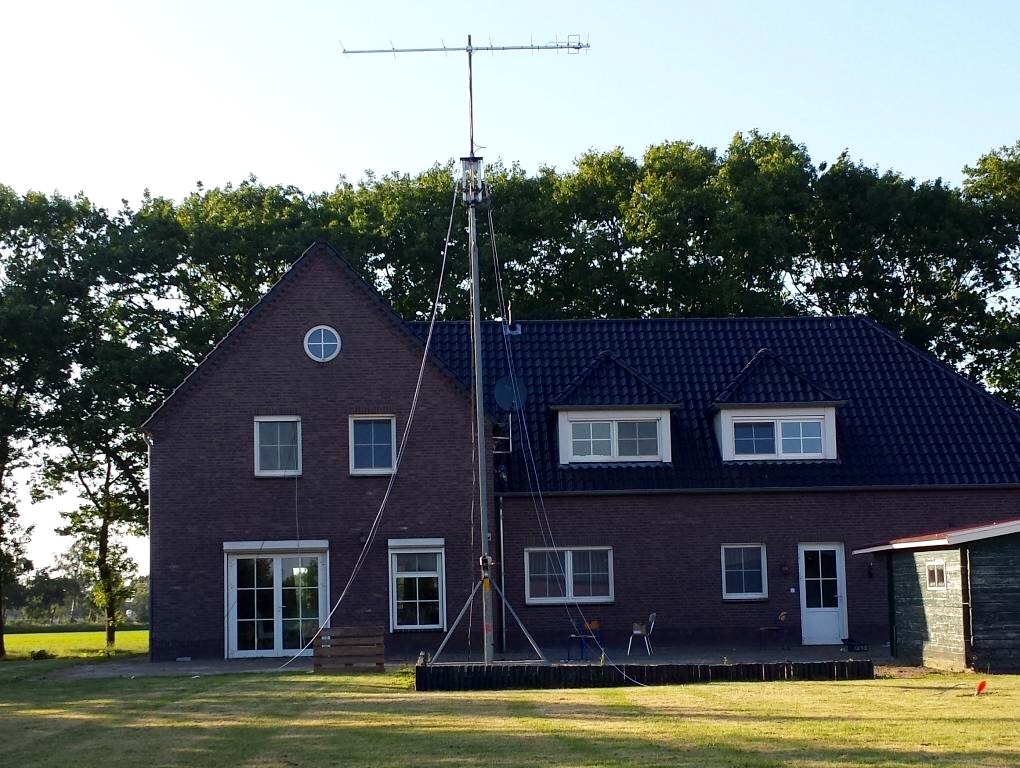 LOW ERP QSO WITH PA5Y
(Single Yagi 8-Element, 800 watts)
The Single Yagis that I had recently employed as "RX Antennas" in the backyard (1X13, 1X16 and 1X17 respectively) had performed extremely well so far so I was really hoping that the 2X13 upgrade would provide a noticeable improvement. It did not take too long for me to get an initial validation of that...
On Friday October 30th, I worked PA5Y (Conrad), who was putting out about 800 watts into a Single Yagi 8-Element. The picture to the right shows Conrad's antenna setup. With Conrad's experience and skills with taking advantage of good Ground Gain, and the RPOL capability which allowed me to quickly zero-in onto the optimum polarity to maximize Conrad's signal, we were able to complete our QSO without difficulty.
The video of the entire QSO is available below the picture.
This RX antenna upgrade further enhance my EME experience and will be very helpful in order to more easily achieve the objectives mentioned in Section 25.
Stay tuned...
***WARNING: For Best Resolution, it is critical to select 720p HD resolution in the youtube "settings" at bottom right of the player. The 360p default setting won't yield good enough resolution to see the details. It will take several seconds before the High Resolution kicks in, so you will need to restart the video from the beginning when the High Resolution is active and select to view the video in "Full Screen Mode" for best experience...***