SECTION 11
Gallery of EME QSO with Low ERP Stations
(Updated on August 18th, 2015)
This section is meant to demonstrate that Moonbounce / Earth-Moon-Earth communications are possible between relatively small stations (low ERP). The Newbee will quickly realize that a low ERP EME QSO is a totally different ball game, where the traces are often barely visible on the waterfall, and the ability to recognize them is absolutely critical. That is where the experience of the Moonbouncer comes into play. As an extreme example of the challenge described, I invite the reader to look at the EME QSO with Matt, K6EME. One can see that his traces were perfectly overlapped with an unstable birdy for almost the entire duration of the QSO!
This section will be updated as new videos become available...
******WARNING: For Acceptable Resolution, it is absolutely critical to follow the steps below:******
1) Start the video.
2) Enable the Full Screen View.
3) At the bottom right of the screen (dented little wheel), click on "settings" and select "720p HD".
4) Wait a couple of seconds, and "Restart" the video from the beginning (will enable full resolution to kick in).
5) Enjoy...!
Callsign: ON4KHG

Antenna: 1X12H

Power: 465 watts

Ground Gain: Yes

KK6FAH: 2X14RP/KW

Callsign: DL8SCQ

Antenna: 2X8H

Power: 750 watts

Ground Gain: Yes

KK6FAH: 2X11RP/KW

Callsign: G4HSK

Antenna: 2X8H

Power: 400 watts

Ground Gain: Yes

KK6FAH: 2X14RP/KW

Ground Gain: No

KK6FAH: 2X14RP/KW

Callsign: W8BYA

Antenna: 1X17H

Power: 450 watts

Ground Gain: Yes

KK6FAH: 2X14RP/KW

Callsign: ZL2MQ

Antenna: 2X9XP

Power: 1K, Circular

Ground Gain: No

KK6FAH: 2X14RP/KW

Callsign: N0LWF

Antenna: 2X9V

Power: 850 watts

Ground Gain: No

KK6FAH: 2X14RP/KW

Callsign: DL1VPL

Ground Gain: May be

Callsign: FW5JJ

Antenna: 2X12H

Power: 1K

Ground Gain: Yes

KK6FAH: 2X14RP/KW

Callsign: ND0B

Antenna: 1X12H

Power: 1.5K

Ground Gain: Yes

KK6FAH: 2X14RP/KW

Callsign: DJ2TX

Antenna: 1X19H

Power: 800 watts

Ground Gain: Yes

KK6FAH: 2X14RP/KW

Callsign: DK3XT

Antenna: 1X11H

Power: 750 watts

Ground Gain: Yes

KK6FAH: 2X14RP/KW

Callsign: K3IB

Antenna: 1X12H

Power: 1300 watts

Ground Gain: Yes

KK6FAH: 2X14RP/KW

Callsign: ZL3NW

Antenna: 1X12H

Power: 500 watts

Ground Gain: Yes

KK6FAH: 2X14RP/KW

Callsign: DJ3VI

Antenna: 5 wl

Power: 1200 watts

Ground Gain: Yes

KK6FAH: 2X14RP/KW

Callsign: PA5Y

Antenna: 1X8H

Power: 800 watts

Ground Gain: Yes

KK6FAH: 2X14RP/KW
***WARNING: For Best Resolution, it is critical to select 720p HD resolution in the youtube "settings" at bottom right of the player. The 360p default setting won't yield good enough resolution to see the details. It will take several seconds before the High Resolution kicks in, so you will need to restart the video from the beginning when the High Resolution is active and select to view the video in "Full Screen Mode" for best experience...***
A couple of videos below with screenshot of my EME signal:
DL8SCQ: 2X8H, 750 watts
KK6FAH: 2X11RPOL, 1KW
See DL8SCQ Screenshot to the right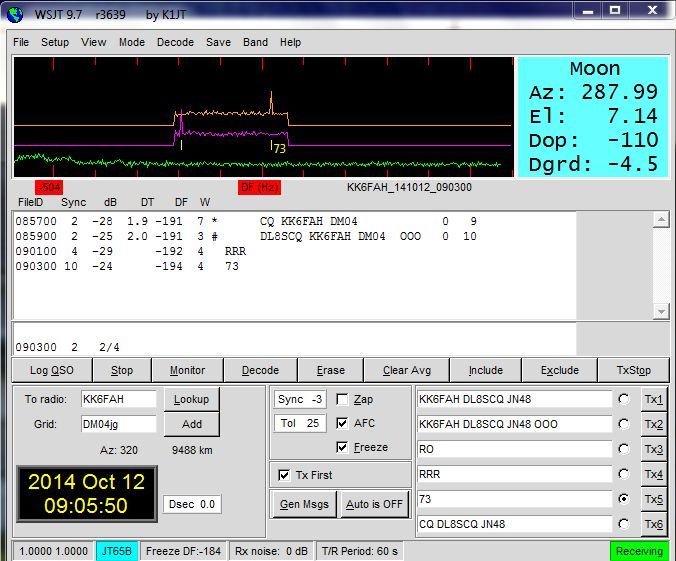 G4HSK: 2X8H, 400 watts
KK6FAH: 2X14RPOL, 1KW
See G4HSK Screenshot to the right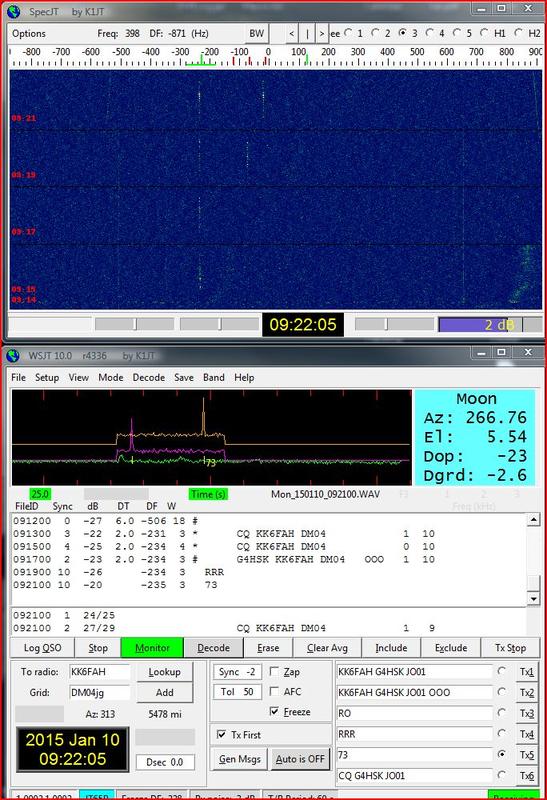 ***WARNING: For Best Resolution, it is critical to select 720p HD resolution in the youtube "settings" at bottom right of the player. The 360p default setting won't yield good enough resolution to see the details. It will take several seconds before the High Resolution kicks in, so you will need to restart the video from the beginning when the High Resolution is active and select to view the video in "Full Screen Mode" for best experience...***